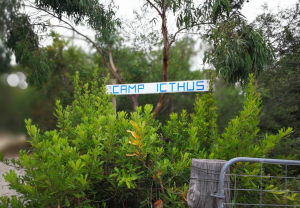 One of the nicest things about Camp Icthus is the natural bush site that we use as base camp. The native plants and animals make a nice change from the city life that most of us are accustomed to day to day. However, maintaining the natural bush setting takes a bit of effort.
Our volunteers spend time weeding and clearing hazards throughout the year, so our campers can enjoy the beauty of the site during summer camps.
During 2004/05 we were lucky enough to secure some funding through the Australian Government's Envirofund grant scheme, to do some additional work around the site. This meant that we were able to purchase some native seedlings to supplement the local trees and shrubs, take more aggressive action to control some environmental weeds and test the effectiveness of controlled burns for the regeneration of tree species.
Here's a summary of what we've done:
– The CFA conducted a small burn on the site in early December 2004, in an attempt to regenerate some black wattles where others have fallen, however the conditions were not ideal and we're not holding out much hope for any regeneration response.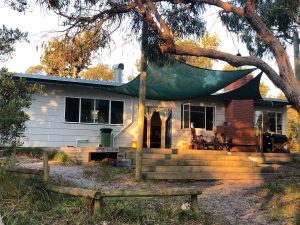 – In early February 2005 we hired a local contractor to spray as much bracken and bluebell creeper as he could see. While weed control will be an ongoing concern, this intensive effort has certainly helped in our management of these two invasive environmental weeds.
– We planted 650 seedlings over the Easter long weekend and another 350 over Melbourne Cup weekend. Unfortunately some of the local fauna is finding the new flora too flavorsome and we've lost just over 15% of the plants to foraging! But we'll keep tending the remaining plants and are hoping that the attraction of the new taste sensations will wear off soon.
– On the 1st of October 2018 the Camp Icthus community were able to raise the funds required to purchase the site and begin the task of upgrading and renovating the site for a strong future.
Site Photos