Camp Icthus is a charity which educates and positively influences the lives of young people. We achieve this by building self esteem and creating a place of acceptance, belonging and community. We teach life skills, team work and confidence through shared experiences and challenge boundaries within a safe space and natural environment.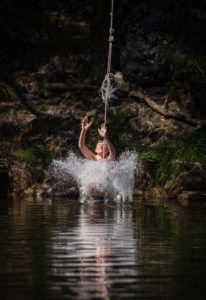 Completely independent and operated by volunteers for over 50 years, Camp Icthus creates opportunities for young people to meet new friends and participate in a diverse range of outdoor activities. Camp Icthus actively seeks participants from a wide range of cultural, religious and economic backgrounds. We encourage participants to develop friendships beyond the usual boundaries of their social groups.
Camp Icthus provides young people with an opportunity for personal, social and physical development in a caring and supported social environment.
Based at a ten acre bush site with beach frontage on Lake Victoria, our ten day Summer Camp programs revolve around the activities of canoeing, sailing and bushwalking. Small groups, with a minimum of 1 leader for each 4 campers, go out on overnight trips spending two or three days sailing the Gippsland Lakes, canoeing down one of the nearby rivers, or bushwalking in the scenic Mitchell River National Park. At night these small groups camp out, fully self-sufficient, under the stars. These trips provide an excellent opportunity to improve physical skills, foster a cooperative community spirit and develop environmental awareness.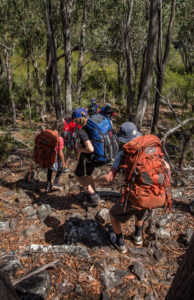 Whilst much has changed since our humble beginnings in 1963 we continue to use Adventure Camping as a tool to promote kindness and compassion, honesty, respect, loyalty and perseverance. Camp Icthus is a Child Safe organisation, and as such we value diversity and do not tolerate any discriminatory practices. We support the cultural safety, participation and empowerment of Aboriginal children and their families, and children from culturally and/or linguistically diverse backgrounds and their families. Please click here to read our full Child Safety Policy. Icthus is a Greek word meaning fish, hence the use of a fish symbol in our logo.
Our volunteer leaders (all with Working with Children Checks) tend to be as diverse a group as the campers. Many leaders have developed their skills and knowledge through participation as campers in previous camp programs. Some leaders have additional skills and qualifications in teaching, outdoor education and social welfare. All our leaders give their time to provide memorable camp experiences, acting as role models and helping to enhance the self-esteem of participants.
During the year, Camp Icthus Inc. holds numerous fundraisers, to keep our program going. Some of the money raised is also available for sponsorship of participants from disadvantaged backgrounds. As we are strictly a not-for-profit organisation, with no paid employees, we pride ourselves in being able to provide quality programs at reasonable rates.
For more information about Camp Icthus please Contact Us.
For information about our Summer Camp Programme please contact our Summer Camps Coordinator at or contact her on her mobile at .
Camp Icthus acknowledges the Traditional Owners of the lands on which we camp, live and work, and pays deepest respects to Elders past, present and emerging. We also acknowledge that sovereignty of these lands has never been ceded.